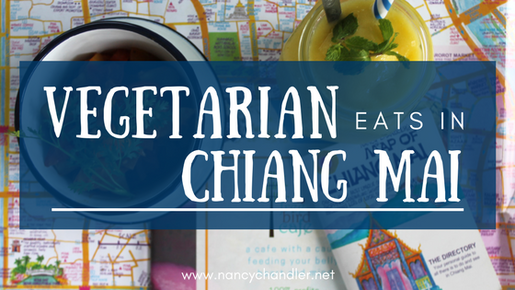 In recognition of the Vegetarian Festival, we've cherry picked our top ten recommended
vegetarian cafes in
Chiang Mai
, but, if you have the time, do feel free to try all of the 65 on
Nancy Chandler's Map of Chiang Mai
and let us know which you prefer!
Our Top Ten in alphabetical order:
Amrita Garden
, Samlarn Soi 5 (J1 on map)
Macrobiotic lunch buffets and a la carte Thai and international organic, vegan dishes down a
back soi within the Old City. Open Wed- Mon 10am-10pm
Facebook link
Anchan Vegetarian
, Nimmanhaemin Soi 8 (A2-B2 on map)
Thai vegetarian & vegan, wine, art, terrace, natural products off the main road in a simple cafe
in the trendiest part of town. Open Tue-Sat 11am-10pm.
Facebook link
Aum's Vegetarian
, Tha Phae Gate (K1 on map)
The most centrally located and one of the longest lasting vegetarian (and vegan-friendly)
restaurants in town, serving Thai dishes within a used book store. Open daily 10.30am-8.30pm.
Facebook link
Blue Diamond
, Moon Muang soi 7/1 (C2, K1 on map)
A brunch favorite serving mostly vegetarian (but not 100%), including home-made bagels,
bread, soy milk ice cream, muesli, and more in an open air indoor and garden setting. Open
Mon-Sat 7am-8pm.
Facebook link
Food4Thought
, Canal Road (A1-B1 on map)
This unique little outlet in the northwest corner of the greater city serves western healthy eats -
gluten free and vegan friendly - as well as food for the mind with regular talks and meet ups.
Highly recommended!
Facebook link
Free Bird Cafe
, Manee Noparat (K1 on map)
This revered little vegetarian cafe serves Thai, Shan, Burmese, and international dishes,
proceeds from the restaurant and its thrift shop supporting the Thai Freedom House's work with
children of the undocumented and refugees. Open Tue-Sun 9am-5pm.
Facebook link
Happy Green
, Padad (C4 on map)
This highly-rated B150 vegan & vegetarian buffet cafe is a ways south of the city center but
offers a wonderful view from its simple riverside location. It also sells vegetarian snacks for take
away. Open daily 8am-5pm, but go before 2pm or they might have run out of some dishes.
Facebook link
J-Suan Dok
, Suthep (B2 on map)
Well-established street food style cafe dishing up delicious curry & veggie buffets. No GMOs.
Ovo, lacto, vegan friendly. Open daily 6am-4pm.
Happy Cow link
Pun Pun Organic
, Wat Suan Dok, Suthep (B2-3 on map)
Pun Pun at Suan Dok is an institution in Chiang Mai, serving cheap and tasty Thai in an open
air street food style cafe behind a Thai temple. Open daily 9am-4pm.
Website link
Whole Earth
, Sridonchai (C3, F, L2-M2 on map)
Upscale vegetarian restaurant in a tree surrounded setting serving Thai and Indian dishes for
decades. Wonderful ambience and food although pricey.
Facebook link
Bonus: Vegetarian Cooking Schools in Chiang Mai
Bodhi Tree Cafe 2
, Ratchadamnoen Soi 5 (K1 on map)
Facebook link
May Kaidee
, Chan Moi Kao (L1 on map)
Widest range of cooking classes we've seen listed (express Thai, fruit carving, how to make tofu, soy milk, chilli paste) and all vegetarian.
Website link
Morning Glory
, Phra Pokklao (K2 on map)
Thai vegan classes outside city at owner's home
Website link
The Pavana
, Mae Rim (H1 on map)
Gourmet raw food classes
Facebook link
---
Nancy Chandler's Map of Bangkok

is now available in a digital package download.

For the short stay visitor, we've highlighted recommended sights, restaurants, bars, and one-stop shopping venues. For those staying longer, our listings are so extensive you'll need time to browse through them to personalize your stay. For expatriates, we've added more detail for the expatriate suburbs of Bang Na and Nonthaburi not usually covered by others.