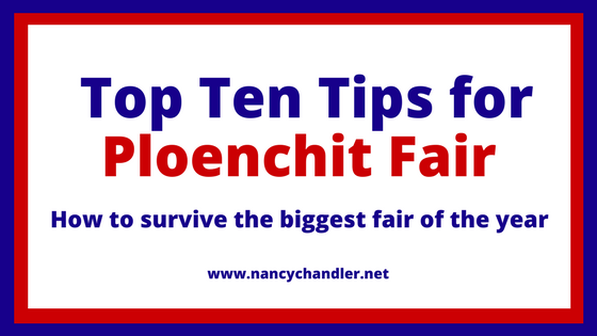 ​The fabulous Ploenchit Fair celebrates its 60th anniversary at Bangkok Patana international school in eastern Bangkok this Saturday, November 25. As participants since the 1970's, we are huge fans. Here are a few tips for newcomers (and reminders for old timers):

1. First stop: Unbeatable Bargains in the Hard Court Area and Petticoat Lane)

Tesco Lotus offers incredible discounts on wine. Friends of ours always go early, buy a few cartons, and then one takes them home only to return to enjoy the rest of the fair later. Other stalls offering boast-about bargains include Boots and the Central Group.

2. Second stop: the Grand Raffle in the Hard Court Area.

Do not miss out on the chance to win some serious prizes. Think British Airways international airtickets with London accommodation and dining packages, domestic and regional flights and resorts, gift vouchers worth up to B 20,000, and more.

3. Third stop: a Coupon Booth.

Buy more coupons than you need. While shopping is by cash or credit card, all games, rides, food, and drinks require payment by coupon. Save time by paying for more than you think you will need when you arrive. You can cash in whatever is left at the end of the day. Update: Coupons for 2017 cannot be redeemed this year, but they can be used in 2018... or sold to friends or vendors at the end of your day.

4. Rest and Study the Map of the Event

The fair is divided into five sections:

a) Shopping with big name companies on the Hard Court and independent unique vendors next door on Petticoat Lane, including several charity-linked outlets.

b) A string of food and drink outlets in the Primary Snack Bar area, offering donuts, ice cream, Greek, Indian and Mexican food…

c) The Small Children's Area with a clown, face painting, Santa Claus, and the Colouring Competition area hosted by Nancy Chandler's Thailand (maps, cards, colouring books, gifts), slime making by BKK Kids, and coloring sets by Staedtler. This area also has lots of shaded seating and a British tea room just past it.

d) Games and Rides on the Field

From lucky dips to bungy swing, Zorb balls, slippery slides, bike racing games, and more, this is where families spend most of the day (see tip below about teaming up to beat the queues).

e) The Stage and Restaurant/Bar Area in the back of the Field

Those who like a good meal and a drink or two, this is where you want to be from 4pm on, if not earlier. When the rest of the fair starts packing up around 6pm, regulars head here. Expect it to turn into a wild early evening if you make the right friends!

​5. Make note of where the restrooms are.

Restrooms closest to the games area and restaurant/bar zone are likely to have lines so aim for those a bit further away (eg. the Small Children's Area) to avoid wasting time in line.

6. If coming as a family, team up with other parents to beat the queues.

Lines for certain rides and games can be long. Make it go much faster for your kids by putting proxies in line for each ride or game your children want to go on. (Make sure your phones are charged too, so you can message each other when one gets near the front of any line.)

7. Arrange for someone to take the kids home at 5.30 or 6pm.

As mentioned earlier, the children's fun fair area and all shops start closing around 5.30pm. The fair continues to 8pm however with concert stage and restaurant/bar area usually getting quite wild… kids are welcome too of course, but if yours aren't the kind to dance the early evening away, you might want someone to take them home early… just saying…

8. Seeking shade? Come find us at the Colouring Competition area.

We're in a covered area with plenty of picnic tables, a tea room, and lots for the children to do while you rest. Adults can also take part in a speed colouring competition at 4.30pm. Beverages welcome.
​
9. Listen to the Announcements Throughout the Day

Fail to pay attention to the announcements and you may miss some special short time bargains too good to pass up!

10. Catch the fair shuttle bus when heading out.

However you came, whether by taxi or BTS + fair shuttle bus, when it comes time to leave, we recommend you catch the fair shuttle bus back to the BTS. Trust us, it is much faster than trying to hail a taxi with many others competing for the attention of the few cabs that pass by this part of town.… and more fun as you get to chat to other fairgoers enroute. If the BTS won't zip you home, you can easily catch a taxi underneath it, many more cruising Sukhumvit than LaSalle.

Bonus Tip: Hang onto the Fair Program to peruse at home for discount coupons on everything from dental care and spas to food delivery and fashion.