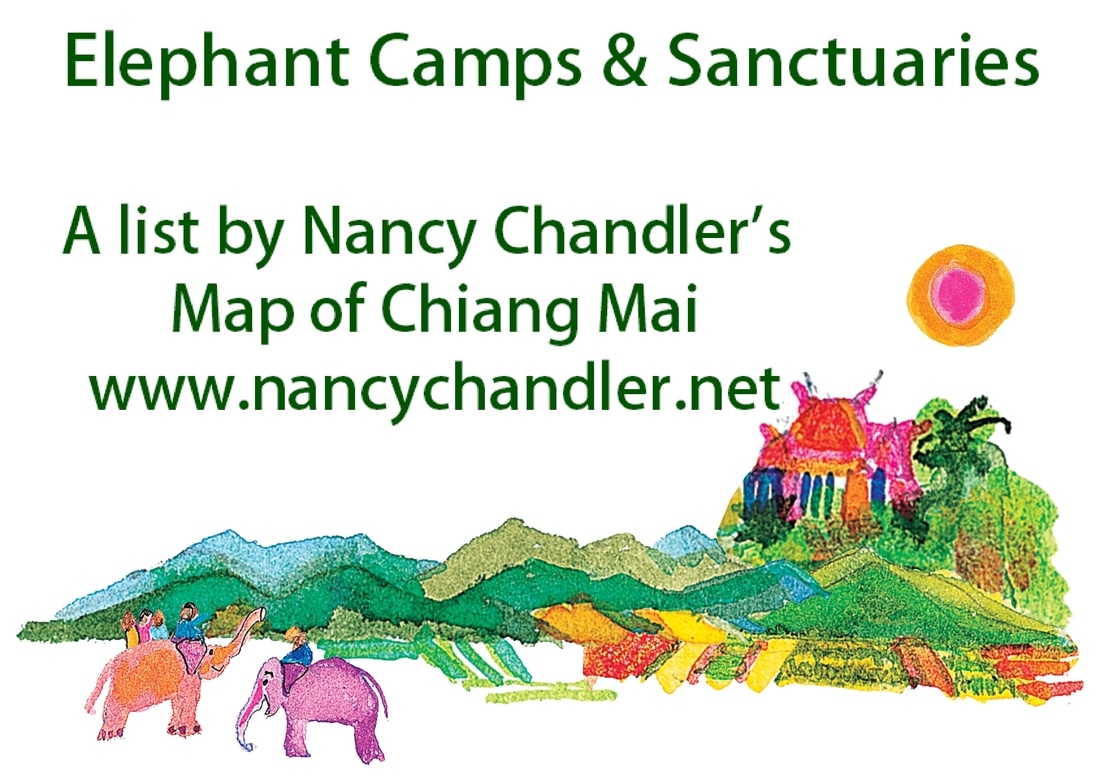 ​These guidelines were taken from the website of The Naka Elephant Foundation which aims at raising public awareness about the threats facing Asian elephants, especially captive Asian elephants as well as supporting those carefully selected projects and organizations to promote the health and well-being of the elephants.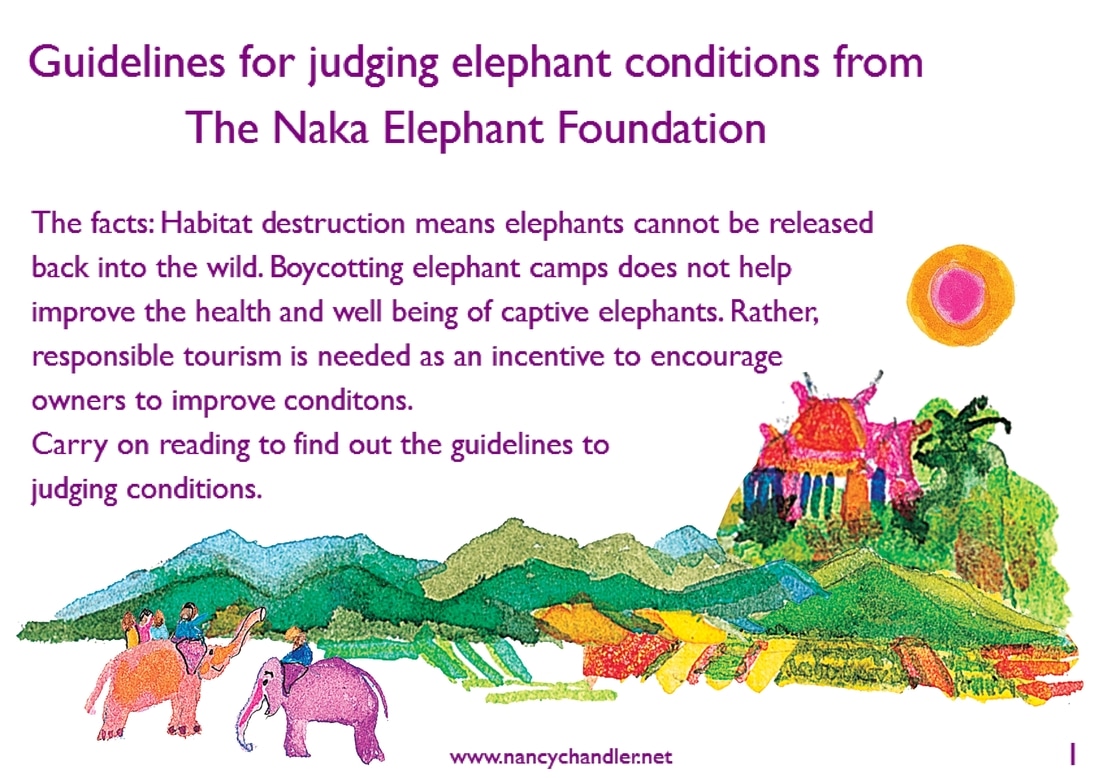 Guidelines from the website of The Naka Elephant Foundation:
Shows that do not involve torturous training are acceptable: eg. traditional logging and painting.
Rides do not harm if hours are limited, loads monitored, saddles well-designed and handled by skilled mahouts, and elephants have time in the shade to rest.
Long chains are preferred to small pens or foaming freely. Chains protect elephants from other elephants of different bloodlines, and farmers whose crops they might otherwise raid. Long chains allow them greater freedom to roam for natural fresh food & water.
A skilled mahout uses a hook for guidance, not torture. Tourism enables owners to keep talented mahouts on the job. In an elephant's forehead is free of bloody pockmarks, hook is used likely okay.
Meeting the medical & nutritional needs of captive elephants is costly. Your tourist dollar spent in the right place ensures better practices.
Read more at
www.nakaelephantfoundation.org
​A list of Elephant Camps & Sanctuaries in Chiang Mai using Nancy Chandler's Map of Chiang Mai, the most unique guide to exploring the city with confidence.
Baan Chang Elepant Park, enroute
to Pai (H1) 053-814-174 Non-profit
offering elephant friendly 1-3 day
mahout training (no shows or tricks).
Educational and fun stories, feeding,
bathing, bareback riding... Not on map
Elephant Jungle Sanctuary
095-698-4422 Elephant sanctuary
managed with Karen hill tribe. Feeding,
hiking, mud-bathing. No rides.
Elephant Nature Park, Moon Muang/
Ratchamanka (K1-2) 053-272-855
A rescue & rehab center for elephants
and other animals. Walk & bathe with
elephants. Short visit, full day and over-
night programs.
Elephant Retirement Park Office,
Kotcasarn Soi 5 (L2) 081-671-9110
Half day to two day experiences.
Camp in Mae Taeng area (H1-I1).
Maesa Elephant Camp & Nursery, Mae
Rim (H1) 053-206-247-8 Shows at 8,
9:40am, 1.30pm incl. parade, art, music,
football, ect. Rides 7am - 2pm. Live-in
mahout course also available. Very
touristy.
Maetaman Elephant Camp, Mae
Taeng (H1-I1) 053-297-060 One day
elephant rides, shows, longer volunteer
& mahout programs.
Patara Elephant Farm, Hwy 1269 (H1)
081-992-2551 Educational 'Elephant
Owner' program, guests assigned a
roaming elephant each. Bareback
riding on request. Small groups only.
Disabled friendly.
Ran-Tong Elephant Save & Rescue,
enroute to Pai (H1) 053-272-023
Center for injured, pregnant and baby
elephants (no riding). Not on map.

Blue Daily Elephant Care, Suriwong
Soi 5 (K2) 087-186-3533 Day trip
includes briefing about Asian elephants,
preparing food for them, ad going on
​a walk with them​
Thai Elephant Care Center (by Mae
Sa Elephant Camp), Mae Sa (H1)
053-206-247 Home for elderly
elephants. Half day programs involve
cooking, feeding and bathing.
Overnight stays involve mini treks,
dung paper making and cleaning.
Thai Elephant Care Center Office,
Tha Phae (L1) 1-3 day programs
caring for retired elephants. Office
between A&D Silver and At
Bankhun. Camp in Mae Sa (H1)
Thai Elephant Conservation
Center, Lampang (I2) 054-829-329
Non-commercial camp aimed at
educating Thais rather than tourists
while providing veterinary care.
Visitors can walk or take the tram to
see the clinic, nurseries, elephant
dung paper making factory (a
highlight for us). Elephant bathing,
feeding, riding, and show (traditional
logging, art, music), mahout training
and homestay programs.
Thai Elephant Home, Mae Taeng
(H1-I1) 089-434-2047 See elephants
in their natural environment, also a
reforestation project. Bareback rides,
mud massages, bathing with
elephants. 1hr to 30 days.
---
Do you have a blog about Chiang Mai? Or a social media page about Chiang Mai? Sign up for our affiliate program
here

Or contact us at sales@nancychandler.net for more information - we would love to work with you.
---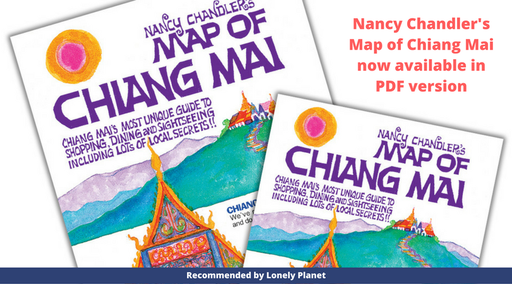 Why purchase the Nancy Chandler's Map of Chiang Mai?

​Save yourself time and money. No need to spend hours on the web zooming in and out, reading every review posted. We have done ALL the research for your and compiled everything here with editorial entegrity (no advertising) and with the interests of visitors and expatriates at heart.

Experience Chiang Mai in rich detail, we've researched all there is to see and do for you. On foot, by car and online.

The 2017 edition comes packed with all kinds of 'essential' info - vegetarian cafes, rooftop bars, live music and pub crawl tips, lane by lane market maps, yoga studios, archery, even fencing classes, secret little shops, and much, much more than you'll find on any free map.

---
---
Snippets from the Nancy Chandler's Map of Chiang Mai
Please leave us a comment or send us feedback.
- The team at NCG